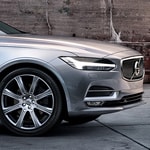 Want a high-class vehicle that offers maximum protection? Look no further. The Volvo V90 is a high-class luxury wagon equipped with only the best safety features to get you where you need to go in one piece.
One of the ways in which Volvo strives to keep you safe is through the implementation of a Distance Alert system. This system is set up so that the V90 alerts you when your vehicle is riding too close to another car. This can help reduce instances of rear-ending and similar accidents. In addition, the Volvo V90 utilizes its Blind Spot Information System to keep you from making unsafe and life-threatening lane changes from your inability to see another vehicle coasting in your blind spot.
All of this and more leads to a safer driving experience and can keep you and your passengers from fretting while on the road. So stay calm and drive on, in your Volvo V90!